Brave Enough
Amanda Gorman reminds Emmy M. '26 to be brave enough to use her art for change.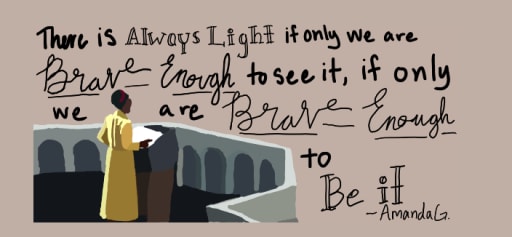 After watching Amanda Gorman deliver her inaugural poem "The Hill We Climb," middle school student Emmy M. '26 channeled her inspiration into art. You might remember this story––how she then designed t-shirts and donated the profits––from Crystal Land's blog post in January. We sat down with Emmy to learn more about how her creative project came to life.

Q: What were your thoughts when you were listening to Amanda Gorman's inaugural poem?
I was just so inspired by her words, and, if I'm honest, I was just so awestruck, and overjoyed to be a part of something so historical. I was watching the inauguration and I heard a line that really stuck with me, "There is always light, if only we are brave enough to see it, if only we are brave enough to be it." I like to channel my feelings through art, and so I started drawing Amanda Gorman along with that quote.
Q: What inspired the artwork that you created and how did you think to turn it into t-shirts and sweatshirts?
I showed the drawing to my mom, and she posted a picture of it on her Facebook. Apparently, people really liked it, and a couple of people asked if we could make shirts and sweatshirts. That kickstarted the whole idea.
Q: Have you ever done anything like this before in terms of selling an item as a fundraiser? Did anyone help you get it off the ground?
In fifth grade, we had a project called Impact Hour, where we could team up with a classmate and try to create an impact in our community. My friend Riley C. and I decided to raise money for the Women's Foundation of California, with bake sales and other fundraisers. Along with the help of many classmates, we ended up raising about six hundred dollars.
Q: Did you have a previous relationship with the Huckleberry Youth project? Or what made you pick them to be the beneficiary of the fundraiser.
My mom went to high school with their fundraising coordinator, Brooke Tao, and we have been Huckleberry supporters for 20 years. Brooke was part of the reason we decided to make it into a fundraiser, so we thought it would be a good idea to support them, and there's a connection between a youth poet, inspiring youth artists for a youth cause that just seems like a good fit.
Q: Is there anything specific you have learned at HRS that helped you on this project?
Like I said, Impact Hour was a great way to learn about fundraising, and what kids can do for the community. I also used a drawing app on my Head-Royce-issued touch screen Chromebook.
Q: Anything else you want to add?
Another interesting thing I learned from this experience was the legal aspect, because we had to contact Amanda Gorman's legal team to use her words and likeness in the design, or else the printing company wouldn't print it. We spent about three weeks discussing it with her lawyers and CustomInk, and they gave us permission. That's all thanks to my mom, who spent a lot of time on the phone and doing research on the topic. I also just wanted to thank everyone who bought the sweatshirts and tshirts, and who donated, because without you, we wouldn't have raised $1,900 for teens in need. From the bottom of my heart, thank you.